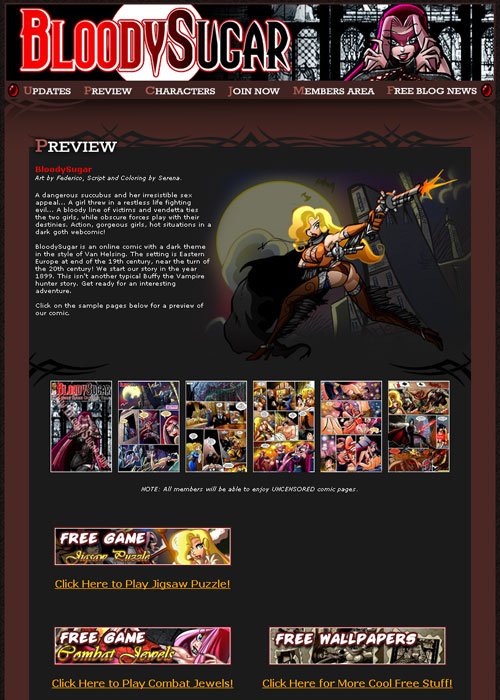 Bloody Sugar
Bloody Sugar is an online comic in the style of Van Helsing. The setting is Eastern Europe at the end of 19th century, near the turn of the 20th century. The authors chose to set this comic in a sort of parallel, steampunk-ish 1899 East European land. Many pages of comics are set in beautiful city Prague.
The website is very well built and easy to browse, you can enjoy it's perfectly sustained style, pleasant to the eye. The comics' author and colorist was inspired by the city Prague with it's beautiful gothic architecture. Clicking on the blog on Bloody sugar you can enjoy seing nice photos taken in Czech Republic and some descriptions of the wonderful city Prague. Magnificient castles and splendid cathedrals in gothic style nourished comic authors' wonderful imagination and filled them with inspiration. Also you can follow sort of in-depth in comic making and see the news and updates in the blog.
Joining Bloody sugar you'll get access to original stories, exclusive artwork, weekly updated comic gallery, games gallery (strip games, puzzles and other fun stuff), pinups gallery and wallpaper gallery. You'll also have a chance to look at work in progress. Plus Bonus games updated daily. Also you are able to play free games and download some free Blood Sugar wallpapers.
Adorable and at the same time mysterious characters, beautiful and incredibly hot girls with voluptuous bodies, handsome guys - all are there to meet their destiny…
If you are keen on dark gothic and reading sexy comics you will definitely enjoy this one!
« Visit Bloody Sugar »
Similar Pay Sites